No, he's not giving out jars of preserves. This is a quick update while I write up today's Artist Radar (it's a goodun).
UK beatsmith
Slugabed
must be in the Christmas spirit, because he recently broadcast via assorted social media outlets that every monday between now and the holidays he will be releasing free tunes.
So here's today's free tune, entitled KITTENS, which he says is an old tune that never saw the light of day:
KITTENS (FREE DL!!)
by
SLUGABED
which he paired with a photo of himself dressed as a daffodil: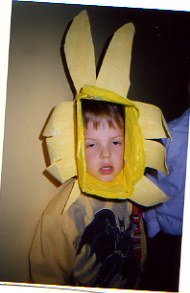 The tune isn't exactly my favorite Slugabed tune by any measure, but hey, free Sluga is free Sluga.
Click on the down arrow in the soundcloud player to grab it, or click
here
if you don't feel like scrolling up.